Friday, September 28, 2012
I just saw this two pictures and I was wondering which one people would prefer the comical one Tina Fey on Entertainment Weekly or Anne Hathaway in Vogue which is a more glamorous approach
Posted by

Tuerig Rubble
at 8:57 AM
1 comment:

Monday, September 24, 2012
Solange was looking Breathtaking as usual in a white Rubin Singer Gown.
Posted by

Tuerig Rubble
at 10:51 AM
No comments:

Cassie strips down and shows off her smokin' hot body in the pages of
GQ
. The "King of Hearts" singer works out in a bikini and
stilettos
as sweat drips off her body in the scintillating photos by Christian Anwander.
Posted by

Tuerig Rubble
at 10:43 AM
No comments:

I really have nothing to say about this new single debacle till i hear the actual song> I just think its a bit senseless to release an album barely a year after you released the last one.
Diamonds' will make its global premiere on Wednesday, September 26th with an 8:00am launch at radio stations worldwide.
"You're not sad or dancing. You're happy and hippie. It's laid-back, but it's hopeful," the pop superstar told Elvis Duran during her visit to the iHeartRadio Music Festival in Las Vegas. "It gives me such a great feeling when I listen to it. The lyrics are very hopeful and positive, but it's about love and the gears are a little different from what people would expect. I'm excited to surprise them sonically."
Rihanna will launch her "Diamonds World Tour" on March 8 in the U.S. Tickets are on sale now.
Posted by

Tuerig Rubble
at 10:28 AM
No comments: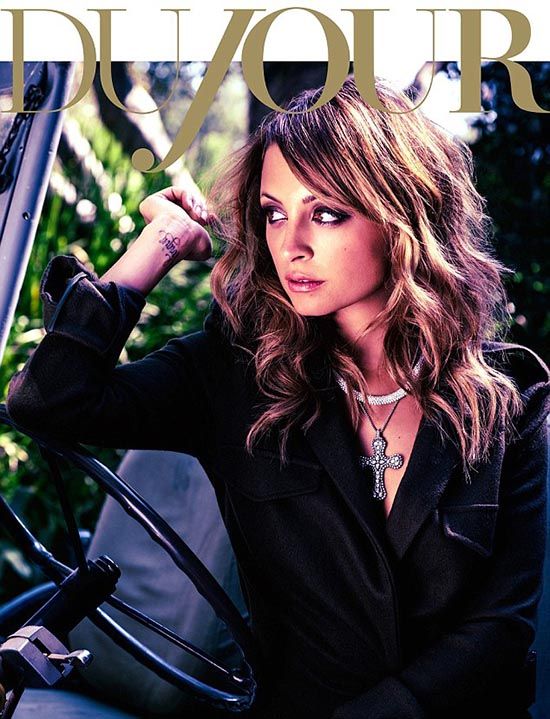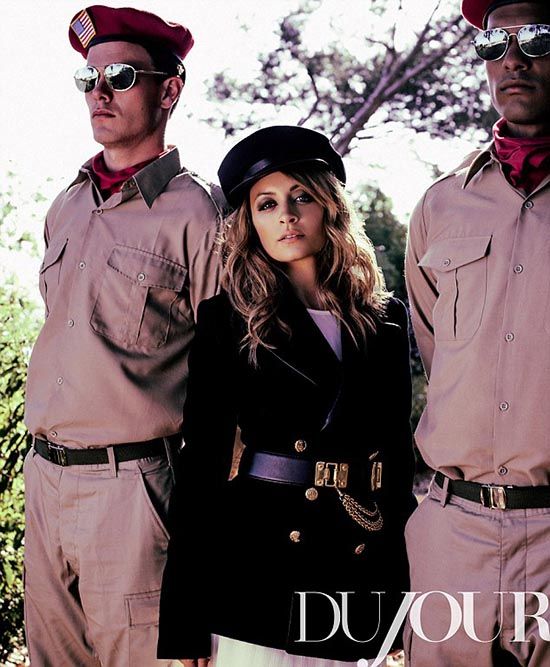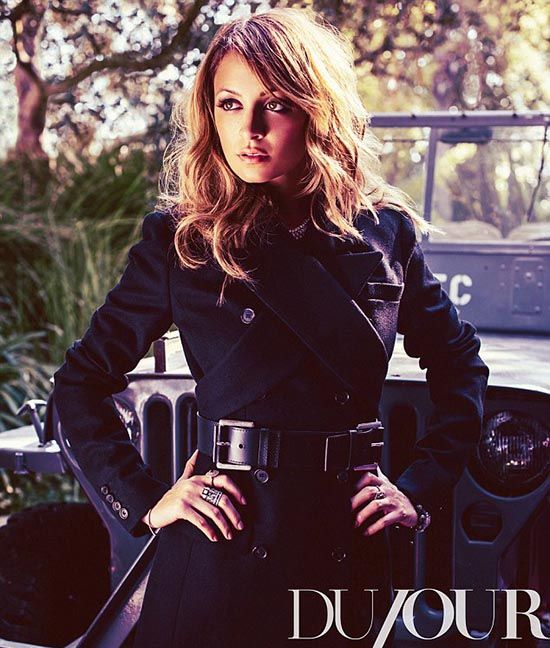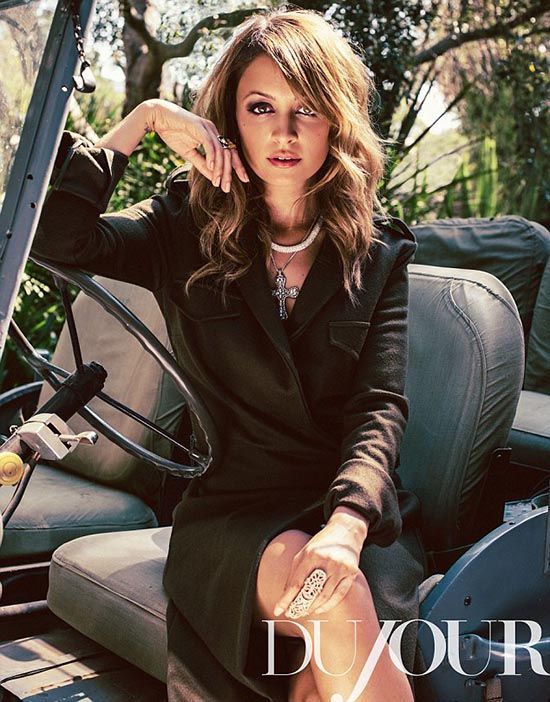 Socialite, Mum and Fashion Mogul Nicole Richie is on the cover of Dujour Magazine were she talks about raising her kids and her role as a Mentor on Fashion Star. An excerpt from the interview below
On the rainy Private Benjamin

movie

(80's flick starring Goldie Hawn) inspired shoot in L.A.:

"It's hilarious. I'm a huge fan of Goldie. But besides that, I gravitated toward the movie because you see her character faced with challenges—she has a choice to go back to what she's comfortable in or face new challenges. So that concept kind of speaks to me."

On juggling the job of mentor on "Fashion Star," 2 kids, and developing several fashion lines
"It's an interesting time right now, because women aren't doing just one thing. We're wearing many hats, taking on different roles. That's just how the modern American woman is today."
On what sparked her interest in fashion
"When I was little, the woman who made my dad's tour costumes would make me a matching figure-skating outfit out of the excess fabric. I would always tell her exactly what I wanted. I was obsessed with Shirley Temple, so the shoulders were puffed, the skirt was out. It was just very, very girly. That whole world was exciting to me. It became this process of something that I knew how to do."
On why she chooses to raise her kids very traditionally and differently than her upbringing
"One of the biggest differences in the way I'm raising my kids versus the way I was raised is that I was on tour a lot. I don't really do that with my kids. It's important to me that they have stability. I like them to be home....I was taken out of school, and had tutors. By the time my

father

went onstage, I was asleep. There's no right or wrong way to raise a family...Look, I don't know anyone who can say they don't just try and do the best that they can do."
On surviving the constantly evolving fashion industry
"Every season, I have pieces that I'm passionate about but for whatever reason the stores don't want them. You have to get used to it, show them another season. You have to let them go....Always be open to criticism. Criticism is the best thing you can ever get because it's someone's honest opinion—you need to hear it. What's the point of hearing how great you are all the time?"

Posted by

Tuerig Rubble
at 2:47 AM
No comments:

P!nk will be coming to a town near you thats if you leave in the UK or Europe. Check out the dates below.
| Date | Venue | Location | |
| --- | --- | --- | --- |
| 14/04/2013 | Manchester Arena | Manchester | |
| 21/04/2013 | LG Arena | Birmingham | |
| 24/04/2013 | The O2 | London | |
| 25/04/2013 | The O2 | London | |
Europe Tour Dates
Date
Venue
Location


12/04/2013
The O2
Dublin


17/04/2013
Palais Omnisport Bercy
Paris


19/04/2013
Ziggo Dome
Amsterdam


30/04/2013
Sportpaleis
Antwerp


01/05/2013
O2 World
Hamburg


03/05/2013
O2 World
Berlin


04/05/2013
TUI World
Hannover


06/05/2013
ISS Dome
Dusseldorf


07/05/2013
Festhalle
Frankfurt


09/05/2013
Stadthalle
Vienna


10/05/2013
O2 Arena
Prague


12/05/2013
Arena
Leipzig


13/05/2013
Westfalenhalle
Dortmund


15/05/2013
Konig Pilsner Arena
Oberhausen


16/05/2013
SAP Arena
Mannheim


18/05/2013
Olympiahalle
Munich


21/05/2013
Hallenstadion
Zurich


22/05/2013
Schleyerhalle
Stuttgart


25/05/2013
Telenor Arena
Oslo


26/05/2013
Ericsson Globe
Stockholm


28/05/2013
Hartwall Arena
Helsinki


30/05/2013
Jyske Bank Boxen Arena
Herning
Posted by

Tuerig Rubble
at 2:39 AM
No comments:

Another day another Rihanna Album in the works. The Bajan singer recently tweeted this picture which has some of the lurics to her new single which premieres this week and its called Diamonds. Hopefully its as good as We Found Love was.
Posted by

Tuerig Rubble
at 2:33 AM
No comments:

Nene is by far one or the only reality star thhat has parlayed her success on reality TV to Hollywood and has done it well. She is featured in the October Issue of Vogue with her New Normal Cast mates. Big things happening for Nene.
Posted by

Tuerig Rubble
at 1:22 AM
No comments:

Wednesday, September 19, 2012
Well So many albums have come out in the past 10 months so i'm just going to give you my fave albums right now.
1.GOOD Music- Cruel Summer- Im not really into rap but I listened to every track on this album and I must say WOW they blew it out of the park. My fave tracks are Bliss (Teyanna Taylor and John Legend. Clique, Sin City and Don't Like. The only problem i have with the whole album is D'banj no hate towards the guy I have great respect for his hustle but how can Teyanna freaking Taylor have more credit than you on this album all he did was give some rather odd adlibs at the end
2. P!nk- The Truth about Love: I wont lie I only like a few songs on this album unlike her albums that i listen to track for track. Well its a good body of work. Theres nothing different about this album though, even the video for the first single had me in fighting the air!!
3. Azealia "FUCKING" BANKS
I don't even know which of her mix tapes I prefer 1991 or Fantasea. Her flow is tight. I mean you really can't hear what she is saying but when you do you just want to either bust a thug move or vogue viciously whichever suits you -_-. Liquorice is my jam, Luxury and Esta Noche are just way too amazing for words.
Elle Varner- Perfectly Imperfect- If you don't have this album please go out and buy. The Sultry and raspy voice gives me chills in the right places